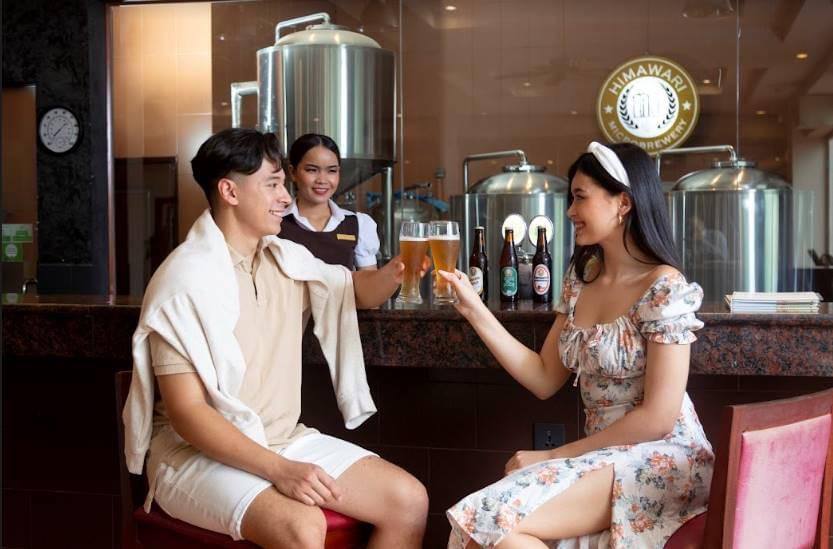 Himawari Microbrewery is the 1st and only microbrewery launched by it's 5-star hotel-apartments in Cambodia. Made from the finest malt and hops, the beers crafted here are unique in flavour and of the highest quality. Paired with signature dishes from the Oyster Restaurant, the dining experience offers you and your family the best combination of food and beverage. You can also enjoy an idyllic experience outdoors, our Garden Terrace overlooks the Mekong Delta with stunning views and a fresh breeze.
Himawari Microbrewery's brewmaster, Neo, has had many years of brewing experience and has designed 7 exclusive brews, 3 of which have won international awards. There's definitely a craft beer for every palate.
Happy Hour from 4:00pm – 7:00pm daily.
Sunny Pilsner
A New-World Pils with unique hops flavour, tropical aftertaste and high drinkability, 5% alcohol.

 
Winner of the Asia Beer Championship 2022 in the category of Pacific Pilsner.
 
Winner of the Asia Beer Championship 2022 in the category of Cambodia Country Champion.
Apsara Gold
An Australasian-Style Pale Ale brewed using a blend of Nelson Sauvin and Cascade. Light and delicate in malt flavour. Distinct hops aroma , 5% alcohol.
 
  
Winner of the International Beer Competition 2013 for the category of Australasian /International Style Pale Ale.
Gem & Jade
A Golden Ale that showcases the balance of malt and hops flavour.  The combination of Pacific Gem & Pacific Jade hops together with the 5 different malts gives this beer its unique profile; earthy hop aroma and flavour with a malty caramel finish. 5% alcohol.
 
  
Winner of Asia Beer Awards 2013 for the category of Pale / Amber Ale.
OatS
A sweet Stout that is low in bitterness but robust in oatmeal flavor, 6.5% alcohol.
CentenniALE
An American style IPA that highlights Centennial Hops. High in bitterness. Residual malt sweetness, 6.5% alcohol
Himawari Microbrewery
Operational Hours: 12:00 pm till 10:30 pm
Tel: +855 23 214 555 Ext. 878
Fax: +855 23 217 111 / 213 071
Email: This email address is being protected from spambots. You need JavaScript enabled to view it.